Hacks to Reduce Credit card fees using QuickBooks
Hacks to Reduce Credit card fees using QuickBooks
Credit card fees continue to be a huge expense for most businesses. Fees expressed in % can be pretty confusing and costly because the absolute value of fees can be huge for invoices that are of higher value
The below table shows how the credit card fees grow with the total payable amount
| | | |
| --- | --- | --- |
| Invoice Amount | Credit card fees(2.9%) | ACH fees |
| $100 | $3 | $1 |
| $250 | $7 | $3 |
| $400 | $12 | $4 |
| $500 | $15 | $5 |
| $750 | $22 | $8 |
| $1,000 | $29 | $10 |
| $1,500 | $44 | $10 |
| $2,000 | $58 | $10 |
| $4,000 | $116 | $10 |
| $8,000 | $232 | $10 |
| $15,000 | $435 | $10 |
| $30,000 | $870 | $10 |
Paying with a credit card makes sense when the amount paid is less than $1000 but not for invoices more than $1000  when there are cheaper options like ACH available.
Below we list down a few hacks we have seen from our experience that are helpful in reducing credit card fees
Hack 1: Allow customers to pay via credit card only if the invoice value is less than $100
The easiest way to avoid paying huge credit card fees would be to actually not allowing your customers to not pay via credit card for invoices above a certain value in the first place.
When you are sending a payment reminder you could provide only the "Pay with Bank" option if the invoice amount is greater than $1000
This is possible via PayorCRM app by doing the following
Setup up 2 email templates. One for users paying invoices less than $1000 and another for users paying invoices greater than $1000


Setup email rules for each of the templates you have set up before. Ensure that the rules have the condition invoice amount greater than or less than $1000


By setting up the above automation rule, You will be able to make sure that customers paying higher invoice value will not have the option to pay via a credit card as can be seen below.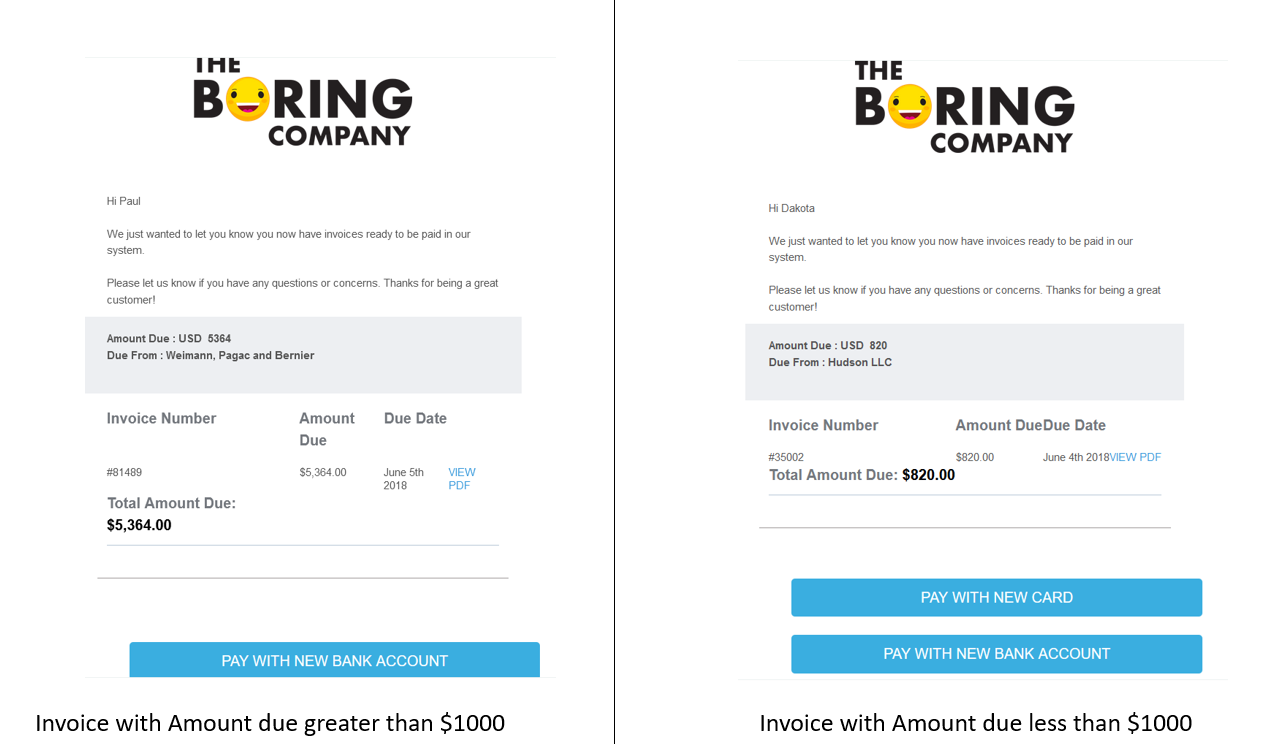 For more details on setting up invoice reminders, Visit our help section
Hack 2: Add surcharge fees
Charging a credit card surcharge is a way of passing on the cost of credit card acceptance to your customers . If you plan to add a surcharge for credit card payments it is also best to also provide an alternate option of payment without fees ( such as ACH) .
To set up surcharge fees on PayorCRM you can do so by going to settings – Advanced settings

For more details on setting up surcharges, Visit our help section
Hack 3 ( requires more effort ): Use a credit card processor that provides interchange-plus fees ( Flat fees vs Interchange plus fees )
Flat fees : QuickBooks payments charges a flat fee (2.9%) for all Credit card transactions. In reality, all card transactions may not have the same fee . The fee depends on the fee charged by banks and card network charges which varies from transaction to transaction
| | |
| --- | --- |
| Fees | |
| Flat fee | 2.9% + $ 0.30 |
| Credit card fees | $3.20 |
Interchange plus fees: A credit card processor that provides interchange-plus fees on the other hand provides a detailed break up of each of the costs involved along with the processing fees charged by them.
| | | | | |
| --- | --- | --- | --- | --- |
| Fees | Interchange rate | Assesment fees | Processor Fees | Total |
| fee | 1.80%+$0.10 | 0.11% | $0.25 | 1.91%+$0.35 |
| Credit card fees | | | | $2.26 |
The above tables show the fees charged for a transaction of $100 in the above 2 cases. Clearly, interchange plus fees option is much cheaper
Reach out to us at [email protected] to know more about how you can Reduce Credit card fees using QuickBooks
---
Also published on Medium.